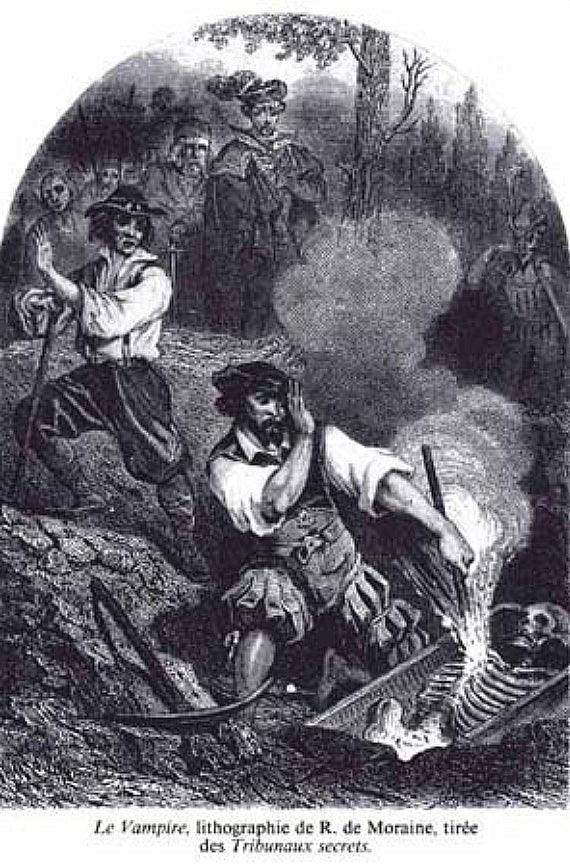 Gothic Horrors: The Regency Vampyre
The "modern" vampire genre (or
Vampyre
, if you will) stems from James Polidori's 1819 novel,
The Vampyre
, however the Gothic craze of the entire Regency era led to this printing, and in fact, real events in Europe led to the fascination of all things mysterious and horrible, as characterized in Jane Austen's novel,
Northanger Abbey
. It should come as no suprise, then, that Northanger Abbey has finally been rewritten as an actual Vampire inspired novel (see
Val McDermid's Northanger Abbey
, 2014). Writers have been trying to mash the two genres for years now, beginning with Stephanie Meyer's
Twilight
(supposedly a nod to
Pride and Prejudice
) and Amanda Grange's
Mr. Darcy, Vampyre
, to
Jane Bites Back
, and other similar tales. According to legend, vampires are mythical beings who subsist by feeding on the life essence (generally in the form of blood) of living creatures (not unlike General Tilney, one might suppose...) In folkloric tales, undead vampires often visited loved ones and caused mischief or deaths in the neighbourhoods they inhabited when they were alive. They wore shrouds and were often described as bloated and of ruddy or dark countenance, markedly different from today's gaunt, pale vampire which dates from the early 1800s. Although vampiric entities have been recorded in most cultures, the term
vampire
was not popularised until the early 18th century, after an influx of vampire superstition into Western Europe from areas where vampire legends were frequent, such as the Balkans and Eastern Europe,although local variants were also known by different names, such as
vrykolakas
in Greece and
strigoi
in Romania. This increased level of vampire superstition in Europe led to what can only be called mass hysteria and in some cases resulted in corpses actually being staked and people being accused of vampirism.
The charismatic and sophisticated vampire of modern fiction was born in 1819 with the publication of
The Vampyre
by John Polidori; the story was highly successful and arguably the most influential vampire work of the early 19th century. However, it is Bram Stoker's 1897 novel
Dracula
which is remembered as the quintessential vampire novel and provided the basis of the modern vampire legend. The success of this book spawned a distinctive vampire genre, still popular in the 21st century, with books, films, and television shows. The vampire has since become a dominant figure in the horror genre. The
Oxford English Dictionary
dates the first appearance of the English word
vampire
(as
vampyre
) in English from 1734, in a travelogue titled
Travels of Three English Gentlemen
published in
The Harleian Miscellany
in 1745. An even earlier example is found in the re-telling the famous case of Arnold Paole and Petar Blagojevich in Serbia, where the London Journal of March 11, 1732, describes
vampyres
in Hungary (actually northern Serbia under direct Austrian rule) as sucking the blood of the living.Vampires had already been discussed in French and German literature. After Austria gained control of northern Serbia and Oltenia with the Treaty of Passarowitz in 1718, officials noted the local practice of exhuming bodies and "killing vampires". These reports, prepared between 1725 and 1732, received widespread publicity.
The English term was derived (possibly via French
vampyre
) from the German
Vampir
, in turn derived in the early 18th century from the Serbian вампир/
vampir
, when Arnold Paole, a purported vampire in Serbia was described during the time when Northern Serbia was part of the Austrian Empire. Vampires proper originate in folklore widely reported from Eastern Europe in the late 17th and 18th centuries. These tales formed the basis of the vampire legend that later entered Germany and England, where they were subsequently embellished and popularized. One of the earliest recordings of vampire activity came from the region of Istria in modern Croatia, in 1672.Local reports cited the local vampire Jure Grando of the village Khring near Tinjan as the cause of panic among the villagers. A former peasant, Jure died in 1656; however, local villagers claimed he returned from the dead and began drinking blood from the people and harassing his widow. The village leader ordered a stake to be driven through his heart, but when the method failed to kill him, he was subsequently beheaded with better results. That was the first case in history that a real person had been described as a vampire. During the 18th century, there was a frenzy of vampire sightings in Eastern Europe, with frequent stakings and grave diggings to identify and kill the potential revenants; even government officials engaged in the hunting and staking of vampires. Despite being called the Age of Enlightenment, during which most folkloric legends were quelled, the belief in vampires increased dramatically, resulting in a mass hysteria throughout most of Europe. The panic began with an outbreak of alleged vampire attacks in East Prussia in 1721 and in the Habsburg Monarchy from 1725 to 1734, which spread to other localities. Two famous vampire cases, the first to be officially recorded, involved the corpses of Petar Blagojevich and Arnold Paole from Serbia. Blagojevich was reported to have died at the age of 62, but allegedly returned after his death asking his son for food. When the son refused, he was found dead the following day. Blagojevich supposedly returned and attacked some neighbours who died from loss of blood. In the second case, Paole, an ex-soldier turned farmer who allegedly was attacked by a vampire years before, died while haying. After his death, people began to die in the surrounding area and it was widely believed that Paole had returned to prey on the neighbours. Another famous Serbian legend involving vampires concentrates around a certain Sava Savanović living in a watermill and killing and drinking blood from millers. The two incidents were well-documented: government officials examined the bodies, wrote case reports, and published books throughout Europe. The hysteria, commonly referred to as the "18th-Century Vampire Controversy", raged for a generation. The problem was exacerbated by rural epidemics of so-claimed vampire attacks, undoubtedly caused by the higher amount of superstition that was present in village communities, with locals digging up bodies and in some cases, staking them. Although many scholars reported during this period that vampires did not exist, and attributed reports to premature burial or rabies, superstitious belief increased. Dom Augustine Calmet, a well-respected French theologian and scholar, put together a comprehensive treatise in 1746, which was ambiguous concerning the existence of vampires. Calmet amassed reports of vampire incidents; numerous readers, including both a critical Voltaire and supportive demonologists, interpreted the treatise as claiming that vampires existed. In his
Philosophical Dictionary,
Voltaire wrote:
These vampires were corpses, who went out of their graves at night to suck the blood of the living, either at their throats or stomachs, after which they returned to their cemeteries. The persons so sucked waned, grew pale, and fell into consumption; while the sucking corpses grew fat, got rosy, and enjoyed an excellent appetite. It was in Poland, Hungary, Silesia, Moravia, Austria, and Lorraine, that the dead made this good cheer.
The controversy only ceased when Empress Maria Theresa of Austria (mother to Marie Antoinette) sent her personal physician, Gerard van Swieten, to investigate the claims of vampiric entities. He concluded that vampires did not exist and the Empress passed laws prohibiting the opening of graves and desecration of bodies, sounding the end of the vampire epidemics. Despite this condemnation, the vampire lived on in artistic works and in local superstition.
The vampire is now a fixture in popular fiction. Such fiction began with 18th-century poetry and continued with 19th-century short stories, the first and most influential of which was John Polidori's
The Vampyre
(1819), featuring the vampire Lord Ruthven. Lord Ruthven's exploits were further explored in a series of vampire plays in which he was the anti-hero. The vampire theme continued in penny dreadful serial publications such as
Varney the Vampire
(1847) and culminated in the pre-eminent vampire novel of all time:
Dracula
by Bram Stoker, published in 1897. Over time, some attributes now regarded as integral became incorporated into the vampire's profile: fangs and vulnerability to sunlight appeared over the course of the 19th century, with Varney the Vampire and Count Dracula both bearing protruding teeth, and Murnau's
Nosferatu
(1922) fearing daylight. The cloak appeared in stage productions of the 1920s, with a high collar introduced by playwright Hamilton Deane to help Dracula 'vanish' on stage. Lord Ruthven and Varney were able to be healed by moonlight, although no account of this is known in traditional folklore.Implied though not often explicitly documented in folklore, immortality is one attribute which features heavily in vampire film and literature. Much is made of the price of eternal life, namely the incessant need for blood of former equals.
The vampire or revenant first appeared in poems such as
The Vampire
(1748) by Heinrich August Ossenfelder,
Lenore
(1773) by Gottfried August Bürger,
Die Braut von Corinth
The Bride of Corinth
(1797) by Johann Wolfgang von Goethe, Robert Southey's
Thalaba the Destroyer
(1801), John Stagg's "
The Vampyre"
(1810), Percy Bysshe Shelley's "
The Spectral Horseman"
(1810) ("Nor a yelling vampire reeking with gore") and "Ballad" in
St. Irvyne
(1811) about a reanimated corpse, Sister Rosa, Samuel Taylor Coleridge's unfinished
Christabel
and Lord Byron's
The Giaour
.Byron was also credited with the first prose fiction piece concerned with vampires:
The Vampyre
(1819). However this was in reality authored by Byron's personal physician, John Polidori, who adapted an enigmatic fragmentary tale of his illustrious patient, "Fragment of a Novel" (1819), also known as "The Burial: A Fragment".Byron's own dominating personality, mediated by his lover Lady Caroline Lamb in her unflattering
roman-a-clef
,
Glenarvon
(a Gothic fantasia based on Byron's wild life), was used as a model for Polidori's undead protagonist Lord Ruthven.
The Vampyre
was highly successful and the most influential vampire work of the early 19th century.