Author to Author: Jodi Picoult reflects on Jane Austen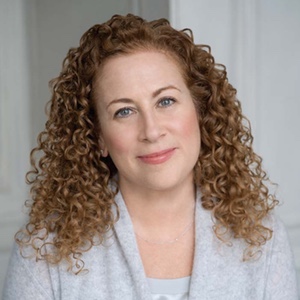 Sue Hughes, from The Jane Austen Centre, was delighted and privileged to interview popular writer Jodi Picoult about her love of Jane Austen when she visited Bath recently on her book tour to promote her latest novel Handle with Care.
 Famous for her gritty fiction, tackling controversial and topical subjects with wisdom and sensitivity, Jodi Picoult has now sold over 30 million copies of her novels, making her, in women's fiction sales, second only to J.K. Rowling. Having been spotted visiting The Jane Austen Centre incognito on a previous visit to Bath, I was keen to find out just how much of a Jane Austen fan Jodi really was.
The eagerly awaited interview began unexpectedly when Jodi immediately seized the initiative and asked me which was my favourite Darcy! Jodi is not a Colin Firth fan (BBCTV 1995) but a committed Matthew MacFadyen fan (Pride and Prejudice 2005). "Why not," she suggested, "have a competition to see who really is the more popular Darcy of the two?" I put in a word for David Rintoul and Laurence Olivier's performances but Jodi was unimpressed.
Back to Firth versus MacFadyen: "Why not have tee-shirts printed with both their images and see which sells the most?" was her next suggestion. Inevitably there followed a comparison of the two productions of Pride and Prejudice in question.
Jodi gave credit to Keira Knightley for a surprisingly good performance as Elizabeth Bennet, but her greatest criticism was saved for the way this 2005 version felt it necessary to have an alternative "Hollywood" style ending specifically for the American market. Here she clearly sees a parallel with what is currently happening to her. The film of her best selling novel My Sister's Keeper, starring Cameron Diaz, will be released in the UK on June 26th.
To her great frustration the ending has been changed. She feels that a very good film has been made: it has an excellent cast and many scenes and dialogue have been lifted straight from her pages, but she feels that, by changing the ending, the directors have missed the opportunity to make a really great film, undermining the true meaning and message of the novel. As she says rather ruefully, "when you sell the rights to the book you lose all control."
Picoult first read Pride and Prejudice as a teenager and was very excited by it. It is definitely her favourite Jane Austen novel. She identifies strongly on a personal level with Elizabeth Bennet. "Of course I'm like her" she says: "I'm so outspoken!" But she continues rather wistfully, "But I didn't marry a Mr Darcy…Also I would love to have lived in those times. I think the fashions would really have suited me!" One of the qualities she really admires is Jane Austen's readability, a strength that Jodi's readers would recognise in her own novels.
Jodi also relates strongly to the social elements underpinning Jane Austen's novels. She appreciates the way Jane Austen reflects the society she inhabits and highlights social inequalities such as women's financial and marriage status in a subversive way through fiction. She feels that often the best way to effect change is to focus on topical problems in fiction. Her novel, Nineteen Minutes, about a school shoot-out and school bullying is now a set textbook in American schools and provokes helpful discussions on these sensitive issues. Similarly, her novel, The Pact, which centres on teenage suicide, has helped teenagers discuss alienation and depression.
When asked what she thinks are Jane Austen's strongest points she focuses on Jane's ability to develop characters. She loves their complexity and the way they leap off the page as people you recognise from your own experiences. Character development is also one of Jodi's talents. She possesses a good ear which allows her to write her novels in multiple first person narratives; a technique which needs believable different voices in consecutive chapters. She says that it is vitally important for her to get under the skin of her characters and she comments: "I get paid to hear voices".
"Has Jane Austen any weak points?", I ask.
"What!? Me, dare to criticise Jane Austen!" comes the immediate reply "Certainly not!" Jane Austen as we know, had a free rein in her father's library and read widely, including such 'modern' novels such as Tom Jones by Henry Fielding, as well as books considered more suitable for a young lady. Jodi too has always read copiously and believes fervently that to be a writer you must be an avid reader. One of her absolute heroines is the novelist Alice Hoffman. The two authors have now met and had lovely breakfasts together. In her novel Second Glance Jodi experiments by trying to write in a similar style to Alice Hoffman. She sees this novel, which is her own personal favourite, as a homage to her idol. At the moment Jodi is reading The Story of Edgar Sawtelle by David Wroblewski. She has two future writing projects already in the pipeline: House Rules, about a teenager with Asperger's syndrome and a passion for forensic science who is accused of murder, and a further novel planned whose topic will be gay marriage. Worlds away from Jane Austen! As ever, Jodi knows how her novels will end before she starts, and has already devised the many plot twists so that she can lay a trail of clues from the start of the stories, posing a string of "what if?" questions for her readers. 
Her la
test novel, Handle with Care, is, at its core, about money, a subject at the very heart of Jane Austen's novels. On the surface, Handle With Care deals with a wrongful birth lawsuit, something not very familiar in the UK, with its National Health Service. Really, however, it confronts the dilemma of a family who are very short of money with a severely disabled child to care for. A successful lawsuit would provide the financial answer. Jodi feels that it is probably the saddest book she has written.
Jodi was very happy to be in Bath as part of her book tour. As a huge Jane Austen fan she says that being in Bath is like coming home.  She clearly has a great affection for things English, and makes a point of mentioning that her latest springer spaniel comes from Jane Austen's own county of Hampshire. "I wanted to call him Fitzwilliam" she continued, "but I was out voted! He has been called Oliver Fitzwilliam but actually he doesn't really respond to anything!"
Before we know it, we are back where we started with Darcy again and she insists on dedicating my signed copy of Handle with Care with the words "MacFadyen, 100%".
---
Sue Hughes is a Guide at the Jane Austen Centre in Bath and gives talks to visitors about Jane Austen. She was until recently Editor of Jane Austen's Regency World Magazine and Director of the Bath Jane Austen Festival.