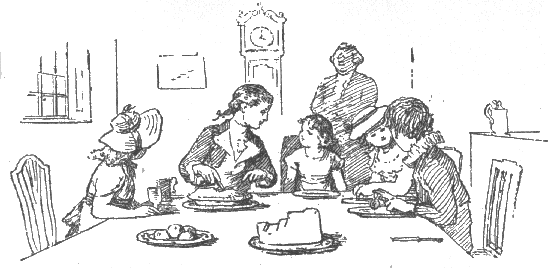 Madame LaTournelle and the Abbey School
Mrs. Goddard was the mistress of a School -- not of a seminary, or an establishment, or any thing which professed, in long sentences of refined nonsense, to combine liberal acquirements with elegant morality, upon new principles and new systems -- and where young ladies for enormous pay might be screwed out of health and into vanity -- but a real, honest, old-fashioned Boarding-school, where a reasonable quantity of accomplishments were sold at a reasonable price, and where girls might be sent to be out of the way, and scramble themselves into a little education, without any danger of coming back prodigies.
Emma
Jane Austen's neice, Fanny Catherine Lefroy, speaks of a school at Reading, to which, at an earlier date, her aunts Cassandra and Jane were sent. The school adjoined the remains of the ancient Abbey of Reading, and was called the Abbey School. "This school at Reading," writes Miss Lefroy, "was rather a free and easy one judging by Mrs. Sherwood's account of it when she was there some years later (than the Austens), and when several French émigrés were among its masters. In Cassandra and Jane's days the girls do not seem to have been kept very strictly, as they and their cousin, Jane Cooper, were allowed to accept an invitation to dine at an inn with their respective brothers, Edward Austen and Edward Cooper."
We seem to see the merry faces of the five young people and to hear their eager chatter as they sat at table in the old-fashioned inn parlour enjoying their holiday feast! Jane was very young at that time, for she was sent to school
"not because she was thought old enough to profit much by the instruction there imparted, but because she would have been miserable (at home) without her sister; her mother observing that 'if Cassandra were going to have her head cut off, Jane would insist on sharing her fate.'"
Did the Abbey School, we wonder, serve as a model for Mrs. Goddard's school in Emma? Mrs. Goddard "was a plain motherly kind of woman," we are told, whose school was "not a seminary, or an establishment, or anything which professed, in long sentences of refined nonsense, to combine liberal acquirements with elegant morality upon new principles and new systems, and where young ladies, for enormous pay, might be screwed out of health and into vanity; but a real honest old-fashioned boarding-school, where a reasonable quantity of accomplishments were sold at a reasonable price, and where girls might be sent to be out of the way, and scramble themselves into a little education without any danger of coming back prodigies." Mrs. Goddard "had an ample house and garden, gave the children plenty of wholesome food, let them run about a great deal in the summer, and in winter dressed their chilblains with her own hands."
Mrs. Sherwood (then Miss Butt), who went to the Reading school in 1790, a few years after Jane Austen had left it, tells us that "the greater part of the house was encompassed by a beautiful old-fashioned garden, where the young ladies were allowed to wander under tall trees in hot summer evenings." Around two parts of this garden was an artificial embankment, from the top of which she says, "we looked down upon certain magnificent ruins, as I suppose, of the church begun by Henry I., and consecrated by Becket in 1125."
The abbey itself consisted partly of the remains of an ancient building, once the abode of the Benedictine monks, and "the third in size and wealth of all English abbeys," and partly of additions made to the structure in more modern times. Mrs. Sherwood speaks of "an antique gateway with rooms above its arch, and with vast staircases on either side, whose balustrades had originally been gilt." This gateway "stood without the garden walls, looking upon the Forbury, or open green, which belonged to the town, and where Dr. Valpy's boys played after school hours."
We have been fortunate in discovering an old print of this same "antique gateway," which also shows a part of the school-house itself. Beyond the Forbury there "rose the tower of the fine old church of Saint Nicholas," while, near at hand, was "the jutting corner of Friar Street" and the "old irregular shops of the marketplace." The abbey, with its past history and its relics of ancient grandeur, must have been a delightful abode to the child Jane Austen, and may it not have suggested to her mind in later life some of the features of Northanger Abbey?
The school was run by a Mrs. Latournelle (her given name was Sarah Hackitt), an Englishwoman, but widow of a Frenchman. She had first entered employment as a French teacher, however, Dierdre LaFaye, in her recent book Jane Austen, A Family Record, notes that, "She could not speak a word of French, but wherenver she had the opportunity of holding forth, she spoke of plays and play-acting, and green-room anecdotes,and the private life of actors . . . She was only fit for the giving out of the clothes for the wash, making tea, ordering dinner and, in fact doing the work of the housekeeper." Little else is known of her.
Mrs. Sherwood tells us that Mrs. Latournelle "was a person of the old school - a stout person hardly under seventy, but very active, although she had a cork leg. She had never been seen or known to have changed the fashion of her dress. Her white muslin handkerchief was always pinned with the same number of pins, her muslin apron always hung in the same form; she always wore the same short sleeves, cuffs, and ruffles, with a breast bow to answer the bow in her cap, both being flat with two notched ends."
"Mrs. Latournelle received me," she writes, upon her first arrival at school, "in a wainscoted parlour, the wainscot a little tarnished, while the room was hung round with chenille pieces representing tombs and weeping willows. A screen in cloth-work stood in a corner, and there were several miniatures over the lofty mantel-piece."
Mrs. Sherwood describes her sojourn at this school as a "very happy one," remarking that "from the ease and liveliness of the mode of life" it "had been particularly delightful" to her. Before she left, the school had passed into the hands of a Monsieur and Madame St. Quintin (the former being a French émigré), while Mrs. Latournelle acted chiefly as their housekeeper. A few years later Monsieur and Madame St. Quintin removed to London and started a boarding-school in Hans Place.Thither Miss Mitford went as a pupil in 1798.
Many of the traditions of the Reading school were continued in London. Mrs. Sherwood speaks of the theatrical entertainments with which the school terms closed in her day, and possibly these were introduced even earlier. The Austens, as a family, were fond of acting and excelled in it; and though Cassandra and Jane, when they were at school, would have been too young to take the direction of such matters, they would gladly have taken part in them. We read in Miss Mitford's Life: "Before the pupils went home at Easter or Christmas there was either a ballet, when the sides of the school-room were fitted up with bowers, in which the little girls, who had to dance, were seated, and whence they issued at a signal from Monsieur Duval, the dancing-master, attired as sylphs or shepherdesses, to skip or glide through the mazy movements, to the music of his kit; or there was a dramatic performance, as when the same room was converted into a theatre for the representation of Hannah More's 'Search after Happiness'; and an elocution-master attended the rehearsals and instructed the actors in their parts."
On one occasion Miss Mitford had to recite the prologue, but before doing this it was considered necessary by the dancing-master that she should perform an elaborate curtsey - a curtsey that should comprehend in its respectful sinking, turning in a semicircle and rising again, the whole audience. This manoeuvre was practised at the last dress rehearsal again and again under Monsieur Duval's vociferous instructions, the pupil secretly longing to effect her escape, when suddenly there appeared on the stage the professor of elocution, "a sour pedant of Oxford growth," who denounced the curtsey as ridiculous. Whereupon a scene ensued between the gentlemen much like that in the "Bourgeois Gentilhomme" between the Maître de Philosophic and the Maître de Danse - which happily ended in a verdict that the elaborate curtsey should be abolished and that three short bends of the body should be given in its place.
---
From: Jane Austen: Her Homes & Her Friends (John Lane The Bodley Head, 1923) by Constance Hill. More information about the Austen's time at the Abbey School can be found in Jane Austen: A Family Record by Dierdre LeFaye and William Austen-Leigh (Cambridge University Press; 2003).
If you would like to learn more about Jane's life and times, peruse our book shop for some great non-fiction reads.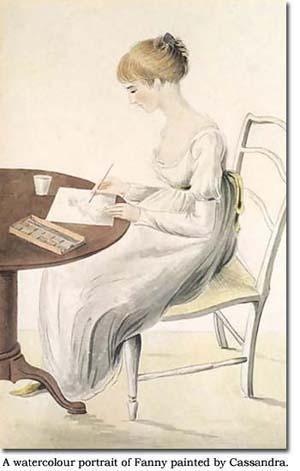 Austen
Fanny Austen Knight (Knatchbull)
You are inimitable, irresistible. You are the delight of my life. Such letters, such entertaining letters, as you have lately sent! such a description of your queer little heart! such a lovely disp...
Read more