Pride & Prejudice - The Panto!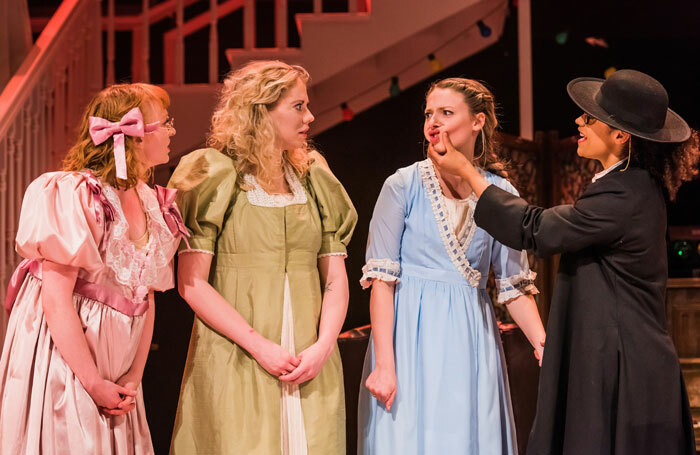 Perhaps it was inevitable that one day someone, somewhere would turn Pride and Prejudice into that essentially English tradition – a pantomime. It has all the trademarks – Mrs Bennet can become a great 'Dame', Lady Catherine de Bourgh is an eminently hissible villain, Mr Collins and Lydia Bennet are great comic characters, and there are two pairs of romantic leads in Elizabeth and Darcy, and Jane and Mr Bingley – Oh, and I've added Willy the incontinent dancing dog! So in the 200th anniversary year of the publication of Jane Austen's iconic work, my own amateur drama group, St Luke's Church Players in Brislington, Bristol UK, are celebrating their 25th anniversary with a panto production of the much loved classic , which will include in the audience Eleanor and Martha Ladds of Bristol who are Jane Austen's great nieces (six times removed) descended from her brother Edward Knight.
My earliest introduction to Austen was watching the BBC TV adaptation of Emma in 1972 when I was 14. Later, I studied it at school. I saw a similarity with my own father in Mr Woodhouse in his kindly worrying about the weather and catching colds, though in my case not so extreme! Another character who connected with me was the dreadful nouveau riche Bristolian, Mrs Elton. She was always extolling the virtues of her 'brother Mr Suckling's seat at Maple Grove', on the outskirts of Bristol, very much like Brislington was like at the time, a much favoured Somerset village for Bristol merchants 'when got up in the world'. Brislington also has it's own link with Jane Austen as there is a memorial in the parish churchyard to her niece, Catherine Anne Hubback (1818 –1877), a minor Victorian novelist who was the first to publish a completed version of her aunt's unfinished fragment, The Watsons, which Mrs Hubback published as The Younger Sister in 1850. Catherine's husband, John Hubback was a promising lawyer who after a mental breakdown spent the remaining 35 years of his life as a patient at Brislington House Asylum, and is buried in the churchyard. Catherine emigrated to California in 1870 following two of her three sons. She died seven years later in Gainesville, Prince William County, Virginia, and her grave can be seen in St Paul's Episcopal Cemetery, Haymarket, Virginia.
Having already adapted 'straight' dramatic versions of Charles Dickens and Thomas Hardy, it was challenging to adapt Austen as a pantomime. Pride and Prejudice is undoubtedly Austen's masterpiece and the most well known of all her works, largely thanks to the many film and television adaptations of her novels, and the 200th anniversary  I thought would be a good publicity tag. I wanted to stick quite closely to the original story, and I have used quite a lot of dialogue from the book along side modern idioms and local and topical references. I hope to bring Austen's comic genius to new, wider range of audience in the topsy turvey world of pantomime, a theatrical genre, traditional in the UK but perhaps not so familiar with visitors from overseas.
I first had the idea of writing the play after seeing a production of Pride and Prejudice by students at Bristol Old Vic Theatre School two years ago. Watching the performance I was accompanied by a friend who is a great Austen fan (and also the  grandmother of Eleanor and Martha). Straight away she also saw the potential , as have many other 'Austenites' I have spoken to. Early on I decided not to make Mr Darcy into a female 'principal boy' role, so he remains a 'real man' and I was able to include the famous 'wet shirt' scene, created for the classic 1995  BBC TV  adaptation starring Colin Firth (now so synonymous with the story, which was recently voted No 1 in a survey of most memorable TV moments in the UK.)
Like many drama groups St Luke's Church Players has more females than males but luckily Austen created a large number of female characters so I was able to include nearly all of them, and didn't have to cut out many male characters ( Sorry, Mr Hurst you did have to go!). Apart from a few servants, two statues and a dog, all the characters appear in the book, albeit somewhat exaggerated. Since writing the script I have found that like most good ideas, other people had got their before me. I am aware of two other pantomime versions, both produced in the last year.  A version performed by students and staff of Kennett High School, Philadelphia can be seen on You Tube, and also includes Lady Catherine as a villain aided by 'a sinister servant and a horde of kittens'.
Another version has been performed at the White Bear Theatre, London by By Jove Theatre! This featured Jane Austen herself, battling with Charles Dickens as the 'good vs evil' characters, together with a minimal cast including Lydia and Kitty as sock puppets! It is known, as a child, Jane Austen enjoyed (and may have well appeared in) family amateur theatricals at Steventon rectory but what might she have thought of the latest development of her 'darling child'? The Austen family performed Sheridan's The Rivals in July 1784, which was first produced in Dury Lane, London in the year of Jane's birth. The nearest similar production to a pantomime performed by the family (Steventon, February 1788) was Henry Fielding's Tom Thumb, a 'burlesque on the grand  tragic style' which include very panto like characters such as 'Princess Huncamunca', ' Mr Doodle and Mr Noodle', and a female 'principal boy' role in Tom Thumb himself. Personally,   I think Jane would have 'seen the funny side' of my efforts and would no doubt be astonished at the high regard and affection enjoyed by her work after 200 years. If you find yourself in Bristol area of the UK in December you can see yet another recreation of what is possibly the world's best loved novel – it's Jane Austen, but, as Mr Spock might have said, 'not as we know it'.
---
Jonathan Rowe is an ardent admirer of Jane Austen's works. Performances of Pride and Prejudice – The Panto! are at St Luke's Church Hall, Brislington, Bristol BS4  4LS UK from December 3rd –7th at 7.30pm with a 2.30pm Saturday matinee performance. Tickets are on sale from October 21st from the  Box Office: 0117 9711339 or 07503929996. Prices £7 Adults, Children under 12, £4.50, and matinee performance £6.50 and £4. For further information please contact: jonathan_rowe1@tiscali.co.uk