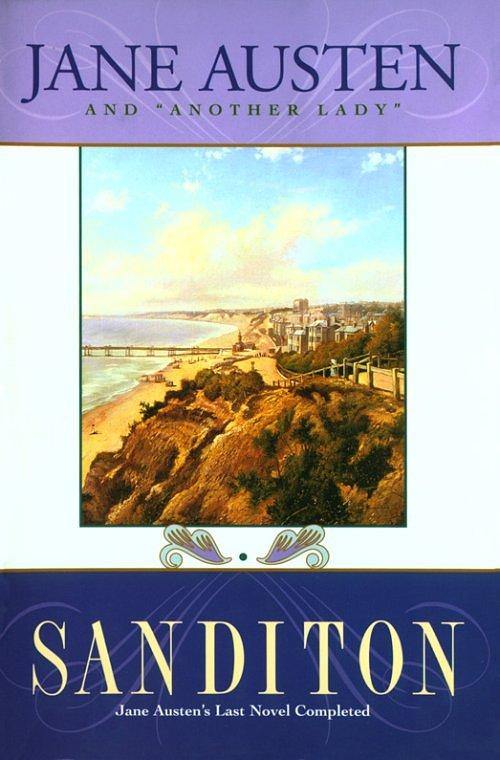 Sanditon: A Completion
Sanditon
By Jane Austen and Another Lady "When Charlotte Heywood accepts an invitation to visit the newly fashionable resort of Sanditon, she is introduced to a full range of polite society, from the local reigning dowager Lady Denham and her impoverished ward Clara, to the handsome, feckless Sidney Parker and his amusing, if hypochondriacal, sisters. A heroine whose clear-sighted common sense is often at war with romance, Charlotte cannot help observing around her both folly and passion in many guises. But can the levelheaded Charlotte herself resist the attractions of the heart?"* Jane Austen died in 1817, leaving two unfinished novels. One of these, only 11 chapters long, was nicknamed Sanditon. It was completed in 1975 by "Another Lady" who, though a previously published author herself, chose to follow Jane's own example of anonymity. Out of print for over 20 years, this gem is finally available in paperback form. Sanditon may be the best of all the Austen novel completions and sequels (there are over 80 at present.) The story moves smoothly from the middle of chapter 11, where Austen left Charlotte to the mercy of Lady Denham, through its sometimes bizarre (but always entertaining) plot twists to a final, satisfying conclusion. Yes, this "other lady" takes liberties with Austen's characters, but who's to know how she would have finished the story if given time.
The important thing to remember is that it is NOT Jane Austen you are reading, nor is the author attempting to fool you into thinking she is. An apology at the end of the book states

"What was there left to worry about in completing Jane Austen's last manuscript? Only the way she wrote it. Her language, her integrity and her painstaking methods of work-- that terrifyingly accurate and meticulous technique-- combine to give us the same sense of serenity and assurance in the six novels in which she brought her world to life and made it real for us. None of these things can be faithfully copied. And for their deficiencies in this seventh novel, I do apologize."
Keeping that in mind, Sanditon, as completed by Another Lady, is a delightful read. It is laugh-out-loud funny in some places- and definitely worth the effort of obtaining. Though it lacks Austen's delicate touch and refinement- it more than makes up for it with a delightful heroine, a hero whose likes have not been seen since Henry Tilney and a host of other characters who are a credit to the Austen collection. The full text of Sanditon, Jane Austen's Last Novel Completed, can be found at our Jane Austen Giftshop
here
. An entertaining review of Julia Barret's sequel to Sanditon (
Charlotte
) can be found at the New York Times' site. Softcover - 336 pages (August 1997) List Price: $13.00 Scribner; ISBN: 0684843420
by Barbara Ker Wilson Being a Jane Austen Fan, I thought this novel might prove interesting. After Jane Austen's death, her sister, Cassandra, burned most of her letters leaving a large proportion of her life unaccounted for. In 1799, Jane Austen's aunt Jane Leigh Perrot, a rather snobbish and upper class woman, was prosecuted for shoplifting a length of lace. Though found innocent, she could, if proved guilty, have been sent to a penal colony in Australia. What if, the author asks, the prosecution had been successful?? What if Aunt Leigh Perrot had been transported? What if Jane had accompanied her? As there are no letters of Jane's dating from this time, Barbara Ker Wilson has written a novel exploring the possibility that Jane went to Australia. The premise seemed to be a tidy and fascinating bit of history from the start. A look at how one of the world's most famous novelists survivied and judged Australia at the time of its very early colonialism. It seems material ripe for a piece of witty Jane Austen observation. However Wilson does not have Jane Austen's eye for detail and witty observation. I found the novel difficult to finish, and not as compelling as I hoped. There is certainly merit in it and many will very much enjoy this book. Unfortunately I think I went into it with too many expectations and felt quite let down. Worth dipping in to especially if you enjoy other books where authors have 'finished' Austen's novels. List Price: Out of Print,
Available Used
Hardcover - 329 pages (May 1985) Viking Press; ISBN: 0670805866;
Anne Woodley is an Amazon top 500 reviewer as well as the patroness of Janeites, the Internet discussion, as well as mistress of the Regency Ring. Her excellent page, The Regency Collection is a treasure trove of information.
* From the back cover
Allenham and Allerton... alliteration in Austen's works
Read more