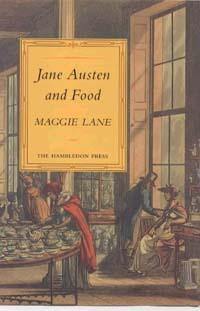 The Jane Austen Cookbooks
Jane Austen and Food by Maggie Lane
What was the significance of the pyramid of fruit which confronted Elizabeth Bennet at Pemberley? Or of the cold beef eaten by Willoughby on his journey of repentance to see Marianne? Why is it so appropriate that the scene of Emma's disgrace should be a picnic, and how do the different styles of housekeeping in Mansfield Park engage with the social issues of the day? While Jane Austen does not luxuriate in cataloguing meals in the way of Victorian novelists, food in fact plays a vital part in her novels. Her plots, being domestic, are deeply imbued with the rituals of giving and sharing meals. The attitudes of her characters to eating, to housekeeping and to hospitality are important indicators of their moral worth. In a practice both economical and poetic, Jane Austen sometimes uses specific foodstuffs to symbolise certain qualities at heightened moments in the text. This culminates in the artistic triumph of Emma, in which repeated references to food not only contribute to the solidity of her imagined world, but provide an extended metaphor for the interdependence of a community. In this original, lively and well-researched book, Maggie Lane not only offers a fresh perspective on the novels, but illuminates a fascinating period of food history, as England stood on the brink of urbanisation, middle-class luxury, and change in the role of women. Ranging over topics from greed and gender to mealtimes and manners, and drawing on the novels, letters and Austen family papers, she also discusses Jane Austen's own ambivalent attitude to the provision and enjoyment of food.
Hardcover: 224 pages Publisher: Hambledon Pr; (April 1995) ISBN: 1852851244 Price: £14.95
The Jane Austen Cookbook Compiled by Maggie Black and Deirdre Le Faye
Jane Austen wrote her novels in the midst of a large and sociable family. Brothers and sisters, nieces and nephews, friends and acquaintances were always coming and going, which offered numerous occasions for convivial eating and drinking. One of Jane's dearest friends, Martha Lloyd, lived with the family for many years and recorded in her "Household Book" over 100 recipes enjoyed by the Austens. A selection of this family fare, now thoroughly tested and modernized for today's cooks, is recreated here, together with some of the more sophisticated dishes which Jane and her characters would have enjoyed at balls, picnics, and supper parties. A fascinating introduction describes Jane's own interest in food, drawing upon both the novels and her letters, and explains the social conventions of shopping, eating, and entertaining in late Georgian and Regency England. The book is illustrated throughout with delightful contemporary line drawings, prints, and watercolours. Authentic recipes, modernized for today's cooks, include:
Buttered Prawns
Wine-Roasted Gammon and Pigeon Pie
Broil'd Eggs
White Soup and Salmagundy
Pyramid Creams
Martha's Almond Cheesecakes
Paperback: 128 pages Publisher: McClelland & Stewart; (May 2002) ISBN: 0771014171 Price: $19.95
Margaretta Acworth's Georgian Cookery Book by Alice Prochaska, Frank Prochaska
The trouble with the old recipes or 'receipts' as they were called in the eighteenth century, is that they leave a great deal ot the imagination. They had no temperatures, very few instructions- most cookery information was handed down mother to daughter, and of course their ovens had no thermostats anyway. When Alice and Frank Prochaska dug up the old Receipt book belonging to Margaretta Ackworth, they decided to remedy this and spent the next months experimenting with the recipes, the ingredients and generally researching the family. The result is this marvellous book. At once a cookbook with authentic Georgian period recipes with modern translations - and also a short history on the the cooking of the time generally, and Margaretta's family specifically. The book tells us alot about culture in Georgian England of the eighteenth century and makes a marvellous read. Many of the recipes just seem plain strange, they include ingredients rarely used now like carraway, rose-water, quinces and hare - well doesn't everthing now have hershey's chocolate or steak? Meat is often collared, scotched, potted, ragouted or colloped. I haven't had the courage to try any of the meat dishes as yet . The layout is really nice. The Prochaska's use the original Ackworth recipe to precede their modern 'translation' of it, so you get the best of both worlds, the old and the new. There are only two colour photo's in this book, reproductions of the portraits of Margaretta and her husband. The rest of the book is printed on a heavy cream paper in black type which feels very satisfying to read.
Hardcover - 160 pages (28 September, 1987) Pavilion Bks.; ISBN: 1851451242 Available Used from $25.00
Anne Woodley is an Amazon top 500 reviewer as well as the patroness of Janeites, the Internet discussion, as well as mistress of the Regency Ring. Her excellent page, The Regency Collection is a treasure trove of information.